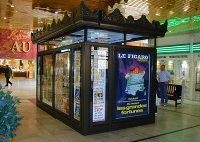 The SEMCO group is happy to inform you of the acquisition of the Sté ACTIS CITY. Since December 2007, this...
Read more
SEMCO the urban furniture expert
Sté SEMCO's aim is to conceive and commercialise urban furniture for local collectivises. Working closely with our customers, we now specialise in the production of secured accesses' equipment and control. Created in 1986 and located in the Isère region, SEMCO owns to this day, 15 patents in the field of urban design. With more than 15000 clients spread across the whole of France and abroad...
Learn more