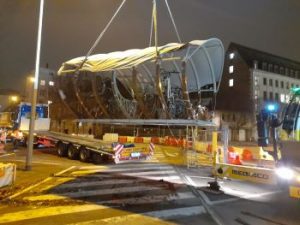 The ATM BIKE in Nantes moved in the Viarmes place
It has been more than 6 months now that the ATM – Semco, was installed at the south station of Nantes, imagined as part of its Fut'Urbain project. In order to benefit all users of this new multifunction shelter. Indeed, if its role is mainly to store and secure the bicycles, it also provides a transition and waiting area, to shelter, sit down, or simply take a break. The ATM in Nantes moved to Place Viarmes
Faced with its success with the inhabitants of the city of Nantes, but also because of work on the station square. The ATM was moved on the night of january, 25. 2022 by exceptional convoy, accompanied by the Semkiosk team.
Now, the ATM is disponible at the Viarmes Place in Nantes.
This location was chosen because it high visibility and heavy traffic during exceptional events every year. On the other hand, it participates in a program of transitional facilities, developed in consultation with the inhabitants of the district.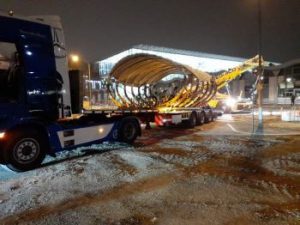 Discover the first installation at ATM in Nantes:
https://metropole.nantes.fr/actualites/2021/enseignement-recherche/nantes-city-lab-abri-velo-gare