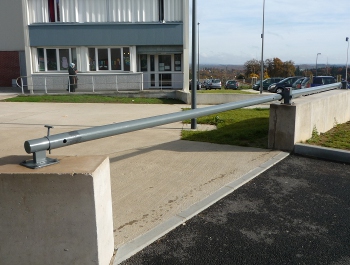 Placed on a low wall, these sliding tubular barriers can be used for plain controlled access.
Placed on higher walls, they can also be used as a sliding gate.
Extremely dissuasive because of the tube sections used (101mm diameter), the tubular barrier can be 3m, 3.5m or 4m long.
Made to operate with either a 'captive key' (locking of the barrier in both open and closed positions is compulsory to retrieve the key), a 'free key' (users can retrieve the key without having to lock the barrier in either positions), or a 'punctually free key' (comprising of both previous functions), these barriers also allow users to choose which key and access types they so wish to use.